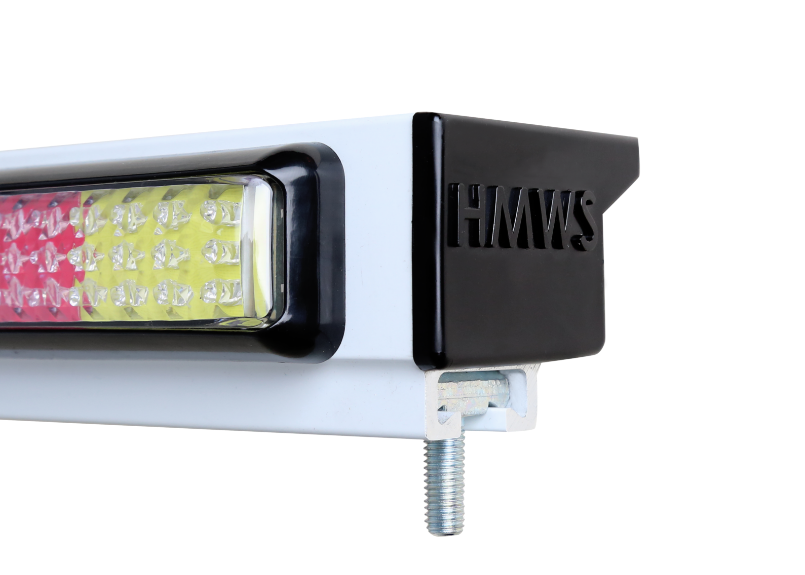 The HMWS Adaptive Mine Bar was designed to not only cater for the mandatory safety and visibility requirements, but also the increasing demand for technologies. Technologies such as autonomous vehicles, collision and proximity detection, surveying and communications. The HMWS Adaptive Mine Bar caters for these technology configurations through our range of simple yet adaptable accessories.
The HMWS Adaptive Light Bar as standard has rear facing stop, tail, indicator and reverse (STIR) LED light clusters, 1 x Class 1 LED rotating beacon, 1 x 97dB auto-adjusting reverse alarm that adjusts its volume based on the external environment and 4 x forward facing indicators which are all connected via the popular 12 pin panel mount Deutsch connector neatly fitted into the bar. The bar has 2 x additional 2 pin Deutsch connectors to cater for additional accessories such as an illuminated flag pole or work lights.
Mounting the HMWS Adaptive Mine Bar is easy and adaptable to any configuration using stainless steel t-bolts. The t-bolts cater for various applications such as head boards and frames as well as a large range of roof racks such as Rhino, Red Dirt and Yakima. The aluminium extruded and powder coated design offers a light weight streamlined profile reducing vehicle drag and is corrosive resistant.
The HMWS Adaptive Mine Bar has a range of pre-designed brackets that cater for most antennas, flag poles and work light fitments. All pre-designed brackets are mounted to the Adaptive Mine Bar using stainless steel t-bolts, so no drilling or modifications are required. The t-bolt system allows for easy installation and removal.