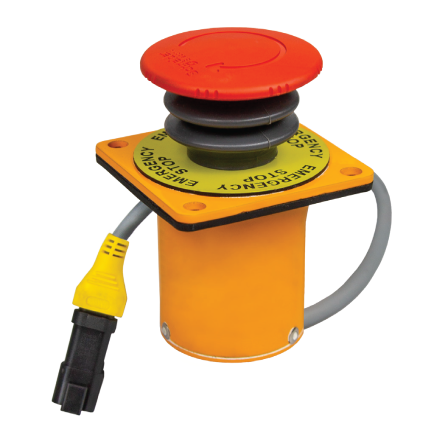 Building on the success of the original HMWS E-Stop, HMWS now offer a panel mount version. The HMWS E-Stop design not only meets the primary function of an E-Stop, but also considers the environments it operates in and associated installation and maintenance practices.
Our plug and play philosophy incorporates an overmold connector making installation simple and easy, external mounting holes eliminating the need for disassembly before installation, is IP 68 rated (6P NEMA rating) and contains 2 sets of contacts to cater for all configurable possibilities.

The Solution:
• The outer casing is made from stainless steel and is powder coated to improve resistance to harsh and corrosive environments.
• IIP68 (6P NEMA rating) further enhances its durability, particularly when exposed to high-pressure water cleaning.
• The plug n play design makes installation and replacement easy with a 4 pin Deutsch connector fitted and external mounting holes that eliminates the need for disassembly prior to installation.
• Installation and replacement can be undertaken by non-trade and non-electrical trades.
• 2 sets of Schneider contacts, 2 normally closed caters for most wiring configuration and E-stop category (0, 1 and 2).
• Configurable to all stop category definitions.
• 60mm mushroom head.
HWMS Part Numbers – E-STOP – Panel Mount
PART NUMBER
PART DESCRIPTION
HMK-ESTOP4
Kit, Sealed Panel Mount E-Stop
(Kit composition: 1 x E-Stop, 1 x Connector Plug, 1 x Connector Wedge, 4 x Solid Contacts, 1 x Schematic/Foot Print Guide)
HMA-3502191022
Sealed Panel Mount E-Stop
(Compatible with DT06-4S and AT06-4S)
Product Data Sheet – Switch Contact 2 NC
|   | MAIN |
| --- | --- |
| Contacts type and composition | 2 NC |
| Contacts operation | Slow-break |
| Contact block type | Single |
 
COMPLEMENTARY
Mechanical durability
5000000 cycles
Contacts material
Silver alloy (Ag/Ni)
Short circuit protection
10 A cartridge fuse type gG conforming to EN/IEC 60947-5-1
[lth] conventional free air thermal current
10 A conforming to EN/IEC 60947-5-1
[Ui] rated insulation voltage
600 V (degree of pollution: 3) conforming to EN 60947-1
[Uimp] rated impulse withstand voltage
6 kV conforming to EN 60947-1
[le] rated operational current
1.2 A at 600 V, AC-15, A600 conforming to EN/IEC 60947-5-1
0.55 A at 125 V, DC-13, Q600 conforming to EN/IEC 60947-5-1
0.27 A at 250 V, DC-13, Q600 conforming to EN/IEC 60947-5-1
0.1 A at 600 V, DC-13, Q600 conforming to EN/IEC 60947-5-1
6 A at 120 V, AC-15, A600 conforming to EN/IEC 60947-5-1
3 A at 240 V, AC-15, A600 conforming to EN/IEC 60947-5-1
Electrical durability
1000000 cycles, DC-13, 0.5 A at 24 V, operating rate: 3600 cyc/h, load factor: 0.5 conforming to EN/IEC 60947-5-1 appendix C
1000000 cycles, DC-13, 0.2 A at 110 V, operating rate: 3600 cyc/h, load factor: 0.5 conforming to EN/IEC 60947 -5-1 appendix C
1000000 cycles, AC-15, 4 A at 24 V, operating rate: 3600 cyc/h, load factor: 0.5 conforming to EN/IEC 60947-5-1 appendix C
1000000 cycles, AC-15, 3 A at 120 V, operating rate: 3600 cyc/h, load factor: 0.5 conforming to EN/IEC 60947-5-1 appendix C
1000000 cycles, AC-15, 2 A at 230 V, operating rate: 3600 cyc/h, load factor: 0.5 conforming to EN/IEC 60947-5-1 appendix C
Electrical reliability IEC 60947-5-4
Λ < 10exp(-8) at 17 V, 5 mA in clean environment conforming to EN/IEC 60947-5-4
Λ < 10exp(-6) at 17 V, 1 mA in clean environment conforming to EN/IEC 60947-5-4
ENVIRONMENT
Ambient air temperature for operation
-25 … 70 °C
IP degree of protection
IP20 conforming to IEC 60529
Standards
EN/IEC 60947-1
EN/IEC 60947-5-1
EN/IEC 60947-5-4
EN/IEC 60947-5-5
JIS C 4520
UL 508
CSA C22.2 No 14
Product certifications
BV
CSA
DNV
GL
LROS (Lloyds register of shipping)
RINA
UL
Vibration resistance
5 gn (f = 2 … 500 Hz) conforming to IEC 60068-2-6
Shock resistance
50 gn (duration = 11 ms) for half sine wave acceleration conforming to IEC 60068-2-27
30 gn (duration = 18 ms) for half sine wave acceleration conforming to IEC 60068-2-27
Product Data Sheet – E-Stop Mushroom Head Push Button 60mm
|   | MAIN |
| --- | --- |
| Bezel material | Chromium plated metal |
| Mounting diameter | 22 Mm |
| Type of operator | Trigger action and mechanical latching |
| Reset | Turn to release |
| Operator profile | Red mushroom Ø 60 mm, unmarked |
| Head type | Standard |
 
COMPLEMENTARY
Resistance to high pressure washer
7000000 Pa at 55 °C, distance: 0.1m
Mechanical durability
300000 Cycles
Electrical composition code
C7 for <4 contacts using single blocks in front mounting
CB for <4 contacts using single and double blocks in front mounting
C11 for <3 contacts using single blocks in front mounting
C15 for <1 contacts using single blocks in front mounting
C10 for <4 contacts using single and double blocks in front mounting
 

ENVIRONMENT

Ambient air temperature for operation
-40 .. 70 °C
Electrical shock protection class
Class I conforming to IEC 61140
IP degree of protection
IP66 conforming to IEC 60529
IP69
IP69K
NEMA degree of protection
NEMA 13
NEMA 4X
NEMA4
NEMA12
Standards
UL 508
EN/IEC 60947-5-5
EN/IEC 60204-1
IEC 60364-5-53
EN/ISO 13850
EN/IEC 60947-5-4
EN/IEC 60947-5-1
CSA C22.2 No 14
GB 14048.5
JIS C8201-1
Product certifications
RINA
LROS (Lloyds register of shipping)
BV
UL listed
DNV
GL
CSA
Vibration resistance
5 gn (f = 2…500 Hz) conforming to IEC 60068-2-6
Shock resistance
30 gn (duration = 18 ms) for half sine wave acceleration conforming to IEC 60068-2-27
50 gn (duration = 11 ms) for half sine wave acceleration conforming to IEC 60068-2-27